Five Attorneys "Named Rising ...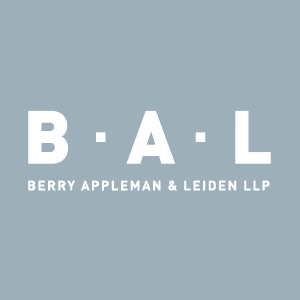 Five Attorneys "Named Rising Stars" by Super Lawyers® for 2020
2 Mar, 2020
Super Lawyers® recognizes five Berry Appleman & Leiden LLP lawyers as "Rising Stars" for 2020. The BAL attorneys listed by the publication are:
Super Lawyers selects attorneys using a patented multiphase selection process. Peer nominations and evaluations are combined with independent research. Each candidate is evaluated on 12 indicators of peer recognition and professional achievement. Selections are made on an annual, state-by-state basis. The objective is to create a credible, comprehensive and diverse listing of outstanding attorneys that can be used as a resource for attorneys and consumers searching for legal counsel. To be eligible for inclusion in Rising Stars, a candidate must be either 40 years old or younger or in practice for 10 years or less. While up to five percent of the lawyers in the state are named to Super Lawyers, no more than 2.5 percent are named to the Rising Stars list.
Copyright © 2020 Berry Appleman & Leiden LLP. All rights reserved. Reprinting or digital redistribution to the public is permitted only with the express written permission of Berry Appleman & Leiden LLP. For inquiries please contact copyright@bal.com.