BAL ranked fifth most innovative global business services company. 
---
We spoke with our teams to understand the ways BAL is innovating within the immigration field, and beyond:
---
Exceptional Client Experience
We use innovation to enhance the client experience. Our Cobalt® upgrades and innovations have helped BAL achieve an NPS score of 67. Global NPS industry standards categorize an NPS score of 50 as "Excellent" and many in the legal industry struggle to reach 25.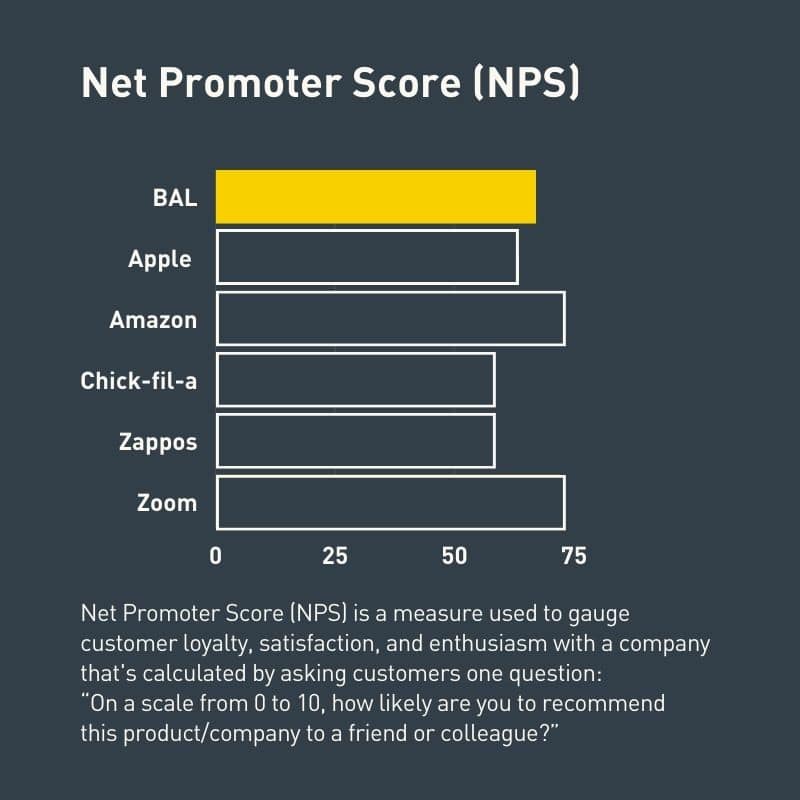 We are a united team dedicated to providing exceptional service to all of our clients. We created Advisor, the industry's largest self-help knowledgebase, to deliver HR professionals and foreign national employees the latest immigration information on demand. Earlier this year BAL launched Community to deliver HR professionals insights, benchmarking data and access to influential policymakers.
Our Unique Business Model
BAL is intentionally structured as one team, one brand, one PNL with one standard of excellence and one unifying technology. All of our teams across 13 offices, including legal, IT, training, knowledge management, quality assurance, onboarding, and client relationships, support one another to deliver exceptional service. Our firm culture, known as oneBAL, incentivizes customer service and collaboration. BAL clients benefit from the expert knowledge of the entire firm.
BAL ranks #1 on all of the preeminent industry surveys for DE&I, including #1 Law Firm for Women on the National Law Journal's Women in Law Scorecard the past four years in a row (2019-2022), #1 on the Diversity Scorecard by The American Lawyer (2020 and 2021), #1 on Law360's Diversity Snapshot three years running (2020-2022) and #2 in its size category for gender equity by Law360 in its Glass Ceiling Report (2021 and 2022). Law360 has designated BAL as a "Ceiling Smasher" for the past seven years due to the high percentage of women who are equity partners.
Transformational Technology
Since 1980, BAL has used technology to transform the immigration experience for our clients and our internal teams. Our proprietary case management platform Cobalt® has empowered the immigration journey of nearly 2 million people from nearly every country in the world. We continue to use technology to deliver a superior experience through:
AI Reduces Errors and Administrative Burdens. BAL leverages AI and machine learning within Cobalt® to more completely and accurately address the large amounts of documentation required in immigration cases. Our clients have less duplicative work and our people spend less time on rote tasks and focus their talents on what they do best: connecting with clients and providing essential legal advice.
Lightning-Fast Updates to Cobalt®. BAL enhanced the scalability and performance of key features of Cobalt®  so clients spend less time waiting for information.
DataPro, a First-in-Class Reporting Tool. Reports are generated in minutes, not hours, and clearly display critical data on user-friendly dashboards. Users can select the data they need and schedule reports at their chosen cadence. Clients can create configurable report templates to gain much-needed visibility across their programs.